'A path to citizenship'
By Jhoanna Angeles
Bridge Staff Intern
Published Saturday, March 13, 2021
One TAMIU alumna and DACA recipient reminisces about the policy that remained in a purgatory state during her tenure as a full-time student.
Dreamers are undocumented immigrants brought to the U.S. as children, according to the National Immigration Forum. During former President Donald J. Trump's administration, several Dreamers faced many uncertainties.
Since its creation in June 2012 by President Barack Obama's administration, Deferred Action for Childhood Arrivals held a great impact on young illegal immigrants, offering them what is commonly referred to by officials as "a path to citizenship."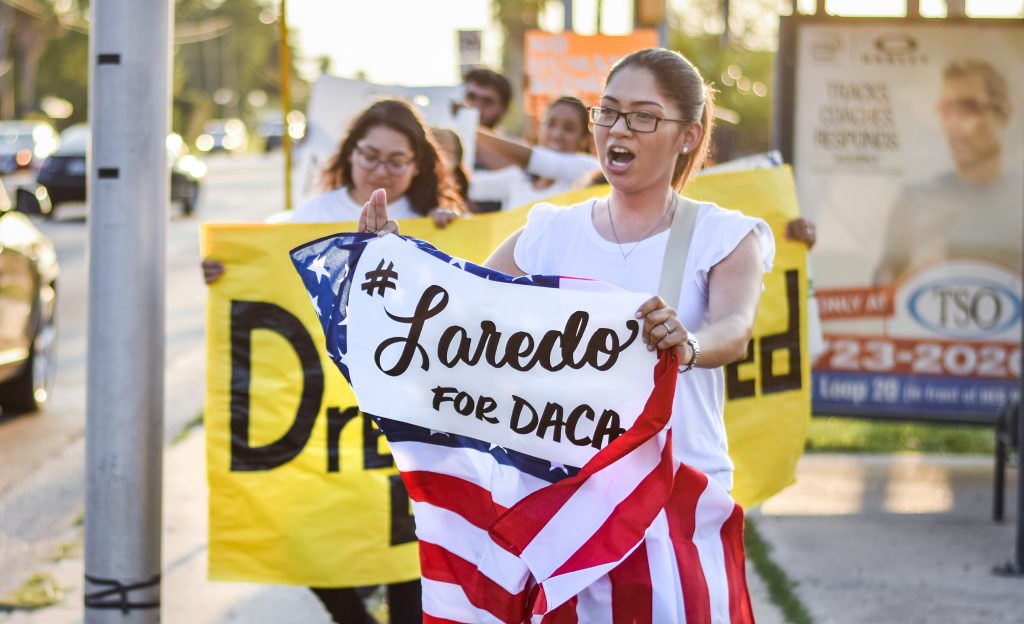 As of Sept. 4, 2017, according to U.S. Citizenship and Immigration Services, there are approximately 800,000 Dreamers in the U.S. with 113,000 residing in Texas.
Trump made promises to deport thousands of immigrants and even end the DACA program in order to end help for young immigrants trying to obtain an education and other DACA-related benefits.
In order to maintain his border wall agenda, he gave up on terminating DACA. Although unsuccessful in ending the program, no first-time applicants were accepted.
Neither the city of Laredo nor Texas A&M International University keep records on the number of DACA students in the Laredo area. It is unclear how many might have been affected by Trump's decision.
One TAMIU alumna, who asked to be identified only as A. Salazar for personal immigration concerns, said she was highly impacted by the former president's words.
"To be honest, I felt a deep knot in my stomach," Salazar said. "Being met with uncertainty when you're just trying to better yourself is something that hits hard.
"DACA offered me the opportunity to continue my education and be able to work to provide for myself and my family since I wasn't applicable to most scholarships."
DACA helped provide individuals with the opportunity to get a higher education and one of the requirements in becoming a permanent resident after exiting the program.
According to the American Immigration Council, completing at least two years of higher education, with good standing, or earning a certification could lead recipients to obtain a green card.
Salazar said the fear of having opportunities torn away was out of mind.
"At the time, I was already a resident through an outside circumstance," she said, "but I was deeply worried for my close friends, especially those I met through school."
Although DACA does offer opportunities to many, it does not guarantee legal status for its recipients. This situation could change if proposed legislation is passed. Democrats introduced the U.S. Citizenship Act of 2021 on Feb. 18 which, if approved, would create an eight-year path to citizenship.
According to the U.S. Citizenship and Immigration Services, DACA recipients are granted a permit to remain in the U.S. This protects recipients from being deported, and allows them to be employed without issues. In order to obtain legal status, recipients must go through the naturalization process that all undocumented individuals go through in order to obtain citizenship.
"I am currently in the last process toward citizenship but not through DACA," she said. "It's been close to a decade of long and expensive processes."
President Joe Biden's administration began to take action on behalf of DACA recipients.
During an interview with Univision on Jan. 12, then Vice president-elect Kamala Harris said the administration planned to shorten citizenship wait times and allow DACA holders a clearer path to citizenship.
On his first day in office, Biden signed an executive order for preserving and fortifying DACA, along with other orders involving immigration, according to The White House Memorandum. This is expected to guarantee the safety of Dreamers, as long as they abide by the law.
"I am grateful he is willing to protect young immigrants that also pay taxes into our system," she said.