For individuals living along the U.S.-Mexico border, the feeling of being caught between two worlds is almost inevitable. The struggle of balancing two cultures and two languages has been portrayed across all types of media. With subjects such as immigration and drug cartel violence making daily headlines, border towns and their residents are becoming an area of interest for reporters and researchers from across the world.
Alfredo Corchado, a Mexican-American journalist based in Mexico City, is no stranger to this balancing act. His lecture, Still Midnight In Mexico? Mexico's Challenges, Journalism and the Borderlands, and the New American Narrative was presented on April 13 in the Student Center Ballroom.
"This region has helped define me as a person and a journalist," said Corchado, who frequently visits Laredo.
While mostly academic in nature, the lecture took a personal turn as Corchado recounted his experiences as an immigrant, migrant worker, and eventual journalist. These experiences provided the basis for his 2013 book, Midnight in Mexico. The book details his experiences as a reporter in the midst of the Mexican drug war, and what Corchado calls "the tragic beauty of Mexico."
Excerpts were read from the book, which Corchado joked smells of "tequila, crying, and Juan Gabriel" upon being opened.
However,  all jokes aside, the circumstances behind his family's move to the U.S. were heartbreaking. The drowning death of his two-year-old sister, Lupita, prompted his mother to consider leaving their hometown of Durango, Mexico for better opportunities across the border.
"I left Mexico kicking and screaming," he admitted.
Corchado worked in the fields of California alongside his parents. It was in these fields that Corchado was approached by reporters.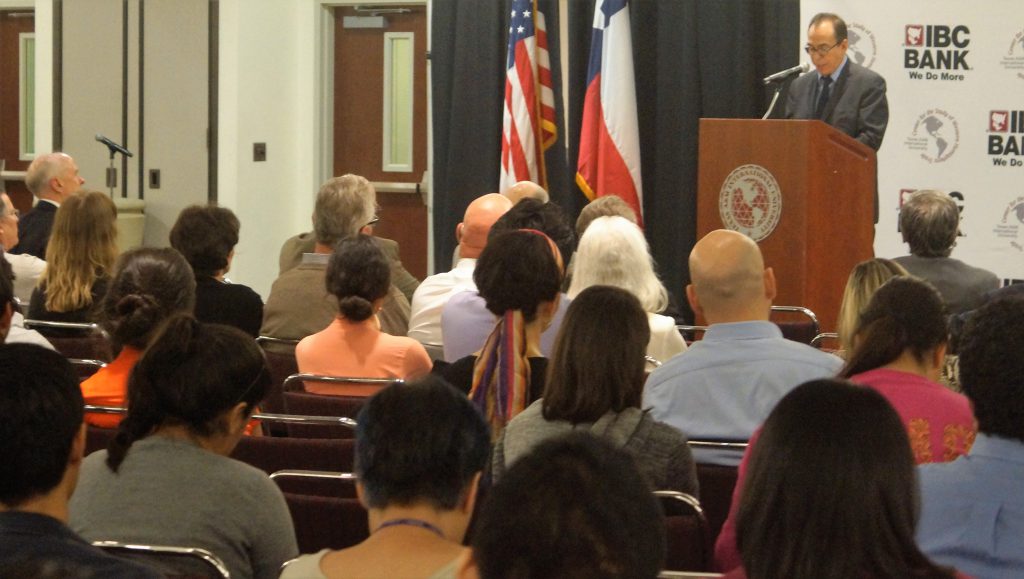 "I was intrigued and touched that somebody wanted to give me a voice," he said.
Though he and his mother were permanent residents at the time, his mother feared the consequences of speaking out. Civil rights activist Cesar Chavez and his work with the United Farm Workers attracted national attention, but also resulted in the deportation of many Mexican workers. She didn't want them to lose their chance at a new life.
Still, the experience opened Corchado to the possibility of providing a voice for others. After moving to Texas and graduating from the University of Texas at El Paso, Corchado is now an accomplished journalist with bylines in several American newspapers, and the Mexico Bureau Chief for the Dallas Morning News.
As an expert on issues found along the border, Corchado is often faced with having to add to the negative press Mexico receives. He admitted this was difficult at the beginning of his career.
"At times I felt that I betrayed my country, but what could I do?"
On a similar note, Corchado spoke of the struggles faced by Mexican and Mexican-American journalists in the midst of the ongoing War on Drugs in Mexico. Noting that Mexico is now considered the most dangerous country in the world to practice journalism, Corchado recalled his own brief scare with the drug cartels. While working on a story in Mexico, he received a call from a trusted source in the U.S. This source notified him that the Zetas planned to kill American journalists; Corchado was one of those named.
They were eventually able to escape Mexico unharmed. Despite being a U.S. citizen at this point, he was told that he could still remain a target for cartel members, the reason being that he did not "look American."
"Being an American journalist does not protect me," said Corchado.
He also mentioned that the risks involved with his occupation were frequently the source of arguments with his mother.
"You are only as naive as an American can be," she once told him. "I won't let the government ruin my children like it's ruining my country."
Speaking for himself and his fellow journalists, he stated the following:
"Our goal is to add border voices to the national debate. No story, no reporter is worth somebody's life, [but] I write because I have hope for a better Mexico."
Yet the danger that comes along with being a journalist in Mexico does not deter Corchado from pursuing the truth.