ARTS: Professor receives festival award for 'Cardboard Scavengers' documentary
By Alyssa Medina
Bridge contributing writer
Published Thursday, Nov. 16, 2023
After encountering a couple of scavengers in downtown Laredo, one TAMIU professor decided their efforts would make for strong documentary work. This foresight led to an award-winning film.
Texas A&M International University Associate Professor of communication Marcela Morán received a Cinema Verde award in the Waste category from the 2023 Annual Film and Arts Festival for her documentary in collaboration with Daphne Art Foundation Executive Director Maritza Bautista, an artist from Cultivarte, a program of the foundation.
Morán details how she met the couple, Chole and Beto, and how they influenced her to create the documentary.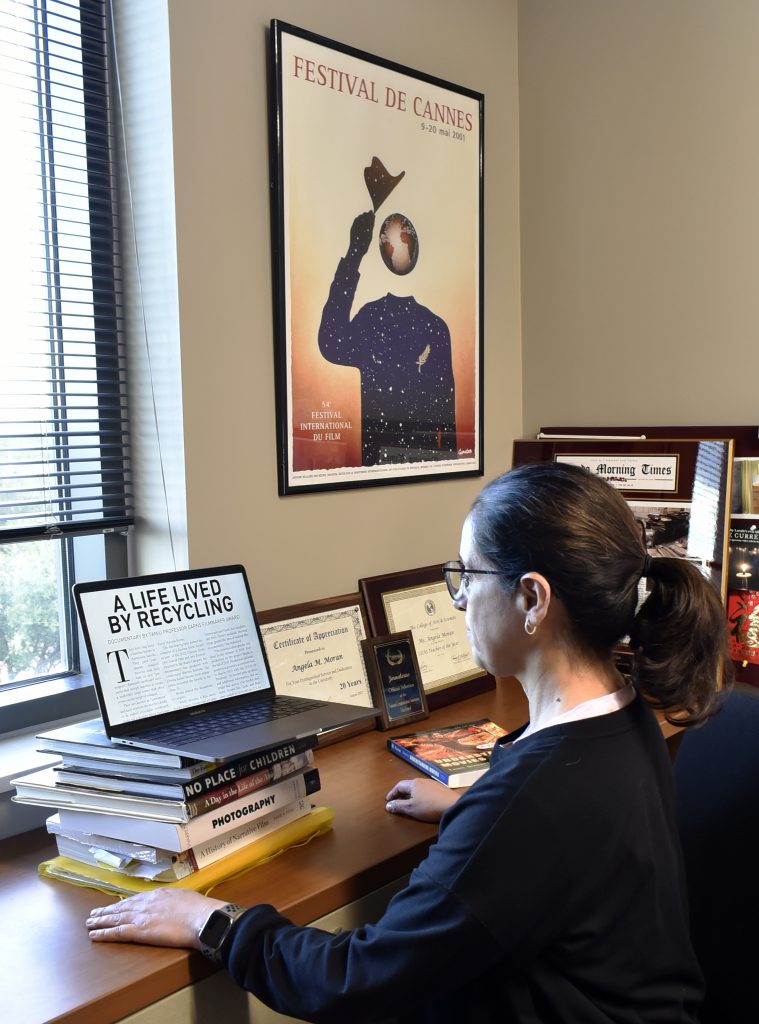 "I was working on another documentary about border women, and I had heard from multiple people about this woman downtown that was a cartonera," she said. "We were looking for her and we discovered Chole, the daughter and Chole's husband. We just thought that they were interesting [and] what they did was important."
Chole and Beto worked all their lives as cardboard scavengers, reselling to industries in Monterrey, Mexico. They cross the border to collect recyclable waste and materials for profit.
"I started to get to know them—more about their story," film collaborator Maritza Bautista said. "I would spend so much time with them and we built this friendship."
At the beginning of March 2020, the Mexico-U.S. border closed the bridge amid the coronavirus spread, strictly allowing essential travel such as work, medical and educational workers. For almost 20 months, it was difficult for many non-essential workers to make a living without crossing the border. Chole and Beto made their income from scavenging cardboard and selling it to the middle person to transport raw materials to Monterrey.
"They were considered non-essential workers, and they're a part of the informal sector," Morán said. "It's not a formal job but nevertheless a lot of people on the border work in informal sectors."
Morán said they faced situations during film production in downtown Laredo.
"One of the challenges is that we have access to them when they have to work," she said. "There was no way that we're going to keep them from working because that's how they earn their living."
In downtown Laredo, traffic and lighting were other issues that created filming situations, such as interference sound from the international bridge, the bus station and music blasting from stores near the production.
According to a PubMed Central article, many people who collect waste in developing countries turn them into valuable materials. Furthermore, other people outside of the work view scavengers as picking up "trash."
"The issue is just raising awareness about people like Chole and Beto," Morán said. "We need to support them as a community to prevent exploitation and discrimination."
Bautista added, "This sentiment that I was able to kind-of experience being with them is how a lot of people would see [it as] they're collecting trash. They treated them differently, and it was hard for me to witness that."
Bautista also said the story inspired her as a cultural artist.
"What I love about this story is that it's very relatable," she said. "It's about the human condition and struggles we all experience. When you create spaces for these voices and stories, the audience is willing to approach it."
Audience members of the 2023 Environmental Film Festival made comments about the entries, including "Cardboard Scavengers."
"It's really great that this piece explores both the socioeconomic, as well as environmental, issues pertaining to this cardboard; because the act of the collection that this married couple does is due to a socioeconomic need, but it's also motivated by an environmental need to reduce the destruction of trees," an audience member said. "I think this [is] just another great example [of] how our socio-economy intertwines and is directly impacted by the environmental choices that we make."
Morán has other projects in the works.
"I'm thinking of continuing with the theme of sustainable practices on the border," she said. "I think it's interesting and I just want to continue raising awareness about what we can do in terms of how we can make a difference."
Morán and Bautista both reacted positively to the film being chosen for the Waste category.
"It was exciting for me that this story resonated across borders and something that is so common in this transborder economy," Bautista said. "[This] is something that really interested me in my practice as an artist."
Morán added, "Thank you, Maritza, and especially Chole and Beto, for allowing us to follow you and learn about your work."
"Cardboard Scavengers" is on Cinema Verde, an independent eco-streaming platform on Roku, curating independent environmental films to promote a vital sustainable future.