CAMPUS: Greeks, CAB host karaoke events
By Elizabeth Kennedy
Bridge Staff Intern
Published Sunday, Sept. 25, 2022
Overcoming one's fears is one way to break out of a shell. Karaoke can be one way to do just that—and one campus fraternity and the Campus Activities Board helped make this happen.
Alpha Psi Lambda, a national co-ed Latino-oriented fraternity, held its free karaoke event Aug. 30 in the Student Center as part of its Recruitment Week. The event lasted from 5 to 7 p.m. Bags of chips were set out along with QR-codes linking to more information about the fraternity. APSI members were on standby to answer questions between songs.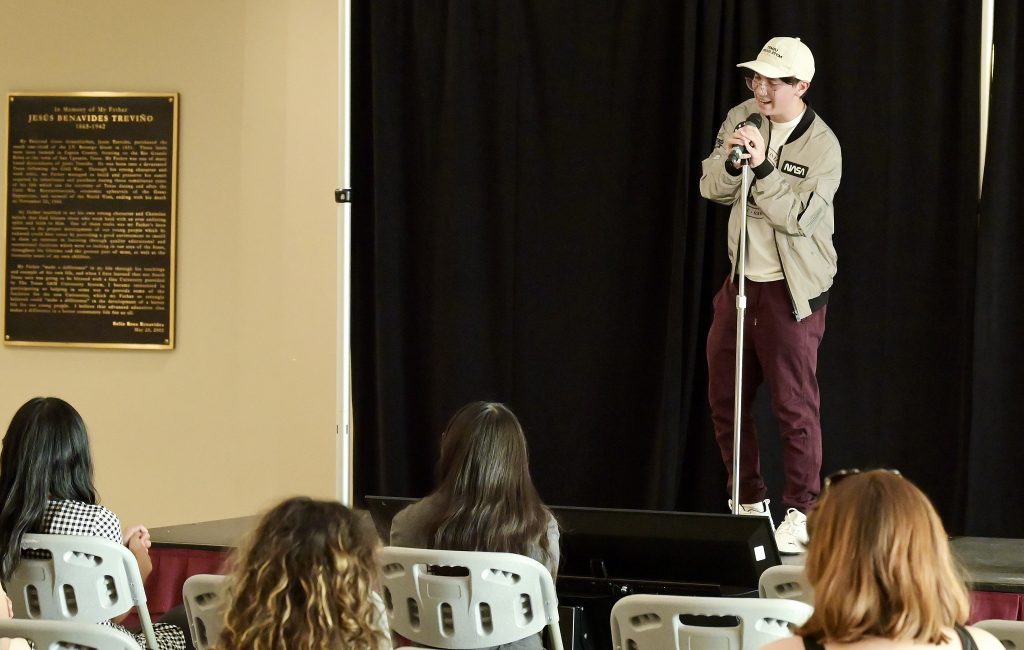 Audience members and bystanders were strongly encouraged to participate in the karaoke themselves. Members of the organization filled the gaps in between volunteers with their own performances, keeping the momentum of the event throughout the evening.
One of the volunteer singers, Cynthia Sanchez, spoke about her experience as a freshman attending the event, calling it a "good way to help people express themselves and help get people used to the environment of TAMIU." She said the karaoke encouraged her to step out of her comfort zone.
CAB also offered karaoke events on campus. One took place Thursday evening, Sept. 6, and another Tuesday evening, Sept. 27 as part of National Hispanic Heritage Month under the title Noche de Baile with Cumbia, Bachata and Merengue musical styles. Both were held in the Student Center, offering free food and aguas frescas.
According to Trailblazers, Phi Epsilon Chapter of Sigma Lambda Gamma National Sorority held a karaoke event on Tuesday, Sept. 13. Delta Xi Nu Multicultural Sorority held its Camp Rock Karaoke Night on Wednesday, Sept. 1. Both were held in the Student Center. Student Government Association held a Karaoke Night on Thursday, Sept. 23 on the Zaffirini Student Success Center Green.
Music and communication double major Danny Perez attended the Sept. 27 Noche de Baile sponsored by CAB.
"So I really love this event, not only because it's led by the biggest organization on campus, but also, it gets to focus a lot on our heritage and where we come from," Perez said. "[It's] our culture, singing songs from our background and all that. So I really, really enjoy events like these."
Another student attending the Aug. 30 event, Julissa Cantu, said it helped her overcome some of her insecurities.
"It makes me feel confident about myself," Cantu said.
She also said the event created a special environment.
"I see the vibe of the fraternity and I feel like it's very homey," Cantu said.
While still undecided about which fraternity or sorority she might eventually join, she made it clear that APSI left a good impression.
Both Sanchez and Cantu expressed an interest in attending future similar events put on by the organization.
Alpha Psi Lambda's Omicron Chapter President Cordero "Cord" Hernandez leads at TAMIU. The Omicron Chapter formed at TAMIU in 2003. He said events like these are a collaborative effort between the members and the chapter is a tight-knit group.
"Making our members better students—better leaders—in the end that's like our ultimate goal," Hernandez said, adding that it was also important "for them to have a place of belonging."
Hernandez said the fraternity had a dormant period and only recently returned to active levels in Fall 2020 and the chapter hopes to continue the upward trend of gaining new members each semester since.
Students interested in learning more about the fraternity may contact Perez or by following the Omicron Chapter on Instagram @apsi_tamiu. Information about current members, as well as upcoming events, may be found there, as well as an interest form for prospective members.