OPINION: Times they are a-changin'
By David Gomez Jr.
Editor-in-chief
Published Monday, Nov. 16, 2020
It seems most of my friends were relieved with the results of the latest presidential election. To be honest, so was I.
I, too, think our president has done an odd job in the White House. I have found it nice to no longer hear his name, or the administration's, on television and every news station every day.
Will president-elect Joe Biden do a better job? I can't say that he will. So far, I like his presentation and that's all I can say so far.
Now that I have your attention, 2020 has been an excruciating year for so many people around the world. Since I'm a U.S. citizen, I can only speak on our behalf.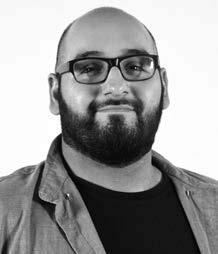 COVID-19 flipped our world upside down and forced us into our homes with terrible Wi-Fi connectivity. I, and many students, cannot attend virtual classes without our connection going down. This further adds another reason to keep recorded classroom lectures.
I strayed away from 2020, I know, so let me get back to it.
Let's see … we almost had World War 3, some Australia and California wildfires, the novel coronavirus spread throughout the world, our routine lifestyle twisted off course, online dating, concert cancelations, the continued spread of misinformation (that's almost every day, but more with an election year), cancelation of the Olympic games and my personal favorite: cinema shutdowns. I miss my movies.
You may have noticed the COVID-19 deaths weren't on the list. That is because they deserve their own inches in this opinion piece. We all know someone who caught it, personally had it or died from it. It is a terrible thing to lose a loved one over something that might have been prevented if we knew who to confide in. Then again, this was something new. Index fingers were always going to be pointed somewhere.
The spread of misinformation this year was enormous. My relatives up north believed it was a hoax. If medical professionals are telling the world to take precaution, you take precaution.
By far, this infuriating year tested me time and time again.
On top of the world's and nation's issues, our own lives are on the line.
In my life, running a student paper for a university proved more difficult than before. I learned little-to-nothing with online classes. Currently, maintaining my sanity without a weekend or two a month to blow off seems impossible. Yet here I am, still a wishful thinker.
As the year nears its close, I think it's a year of growth. It gave us time to look deep into ourselves and know what we want from, or to give, the world.
They say there is no better time than the present. I tried to escape it. Though, the universe will find a way to reach out to you and knock some sense into you whether it takes the form of reflection or of our own mortality. Either way, this year shaped me into becoming a better, I don't know, something?
Oh well, I do feel a fire rising within my soul again. That is all anyone can ask for, right?