Student creates own small business during self-quarantine
By Gabriela Chapa
Bridge Staff Intern
Published Monday, Oct. 12, 2020
[Editor's note: The following is the third installment in a series of articles about different Texas A&M International University students, faculty and staff who are working from home during the COVID-19 pandemic. We hope their stories can be as inspiring to you as we found them to be.]
While some found time on their hands during the COVID-19 self-quarantine, one TAMIU student turned his hobby into a business.
Psychology major Jesus Huerta, 24, also minoring in sociology, is close to graduating this December. Huerta always connected to art and music and this is how he found inspiration to create marble paintings in his spare time over the summer. However, he was one of the many people affected by COVID-19 when he quit his job in San Marcos, Texas, to keep him and his family safe.
Huerta said after making his first marble painting he felt inspired to create his own little business out of his artwork.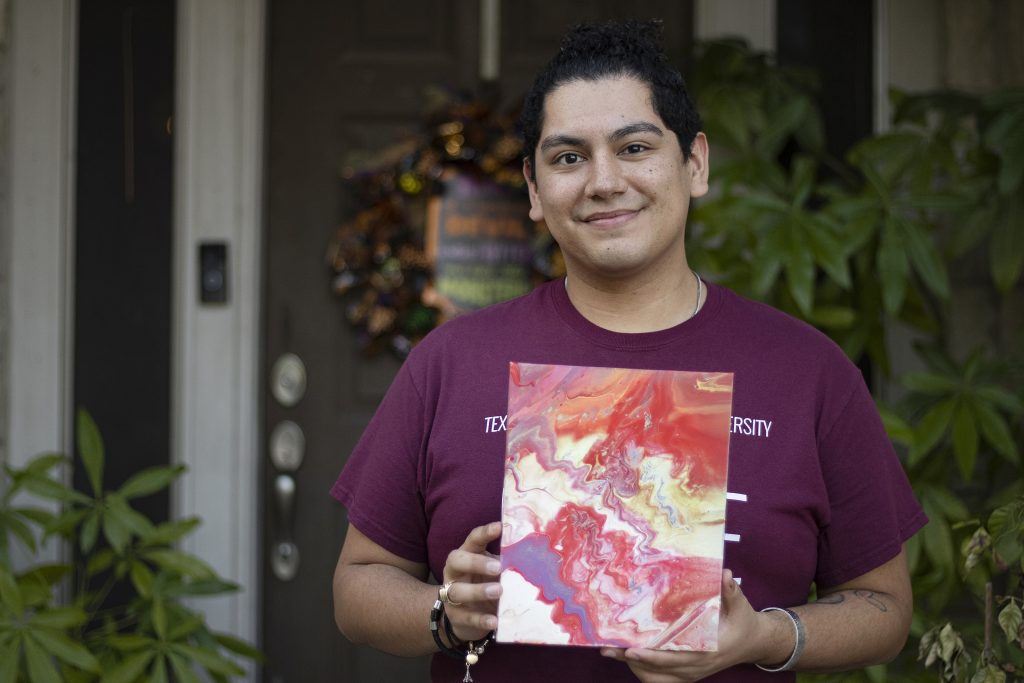 "I created my first marble painting and that was what started it all," he said. "I then got the idea of possibly selling them and making it my own little business. As time continued and we moved back to Laredo, I spoke to my parents and they then convinced me to start it off. I started with creating my social media pages and posting pictures of the canvas I had already done."
After being successful with his marble paintings, Huerta started to add more features to his little business. In addition to the marble paintings, he started to customize canvas while making special orders for his clients. He also added new techniques, such as embroidered art.
He also partnered with other local businesses to create social media giveaways to spread his work. His current work includes a special theme for the month of October which he calls "31 Days of Halloween." He creates and posts a Halloween theme canvas during the entire month.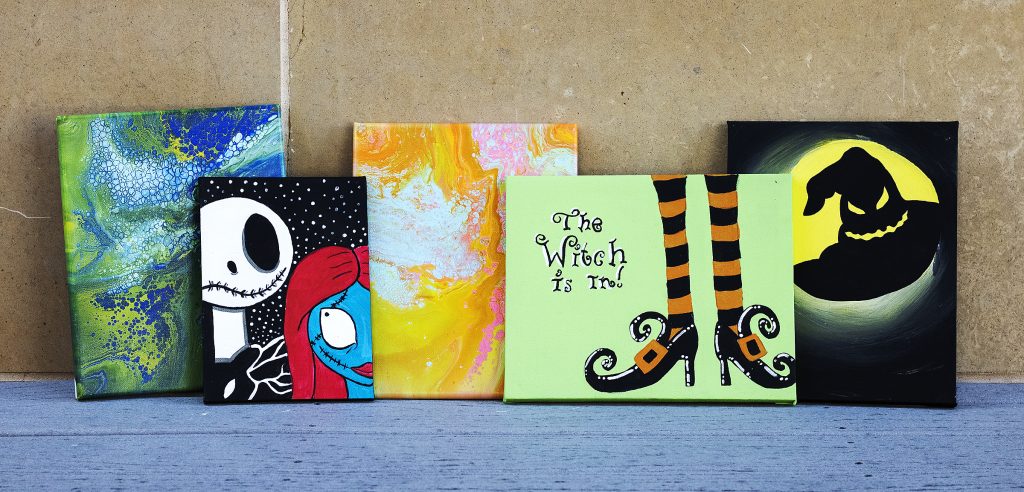 Huerta said he thanks his family and friends for all their support. Even when these times might be hard, he remains grateful for this opportunity that spawned from quarantine.
"I have multiple people [who] have helped me out with my small business," he said. "From family to friends, there have been many people [who] have given me ideas and advice on what I should do in order to further my business.
"This pandemic has definitely affected everyone's life negatively; however, one positive thing I could say it has helped for me, is that it has opened my knowledge of the arts and crafts and allowed me to explore different realms of that field."