On January 12, 2017, Laredo's Mayor Pete Saenz opened the political New Year with his address on the current state of the city. The address was held at the Laredo Energy Arena for a public audience.

In his address, the Mayor was strong optimistic of the progress of Laredo. The speech echoed much of the campaign speeches seen in last year's election. Saenz, without any hesitation, presented a very positive outlook for the city, and commended the current progress.
In previous years, the annual address would usually be held in private venues like the Laredo Country Club. After the favor vote of Proposition 21, the address was presented to the public for the first time.
"The voters passed for the mayor to present the official State of the City address prior to January 31 of each year and, further, that it be presented in a public place, open and free to all the people of Laredo. And so it is, and here we are ladies and gentlemen; I readily welcome and appreciate these changes," Saenz said.

Even though it was open to the public, the entire arena was far from filled, and the audience sat in catered dinner tables. The audience was generally made up of business leaders, local officials, uniformed leaders in law enforcement, as well as the press, and the general public who were now openly welcome. Saenz expressed relief in this new approach as it aids it promoting a transparent government.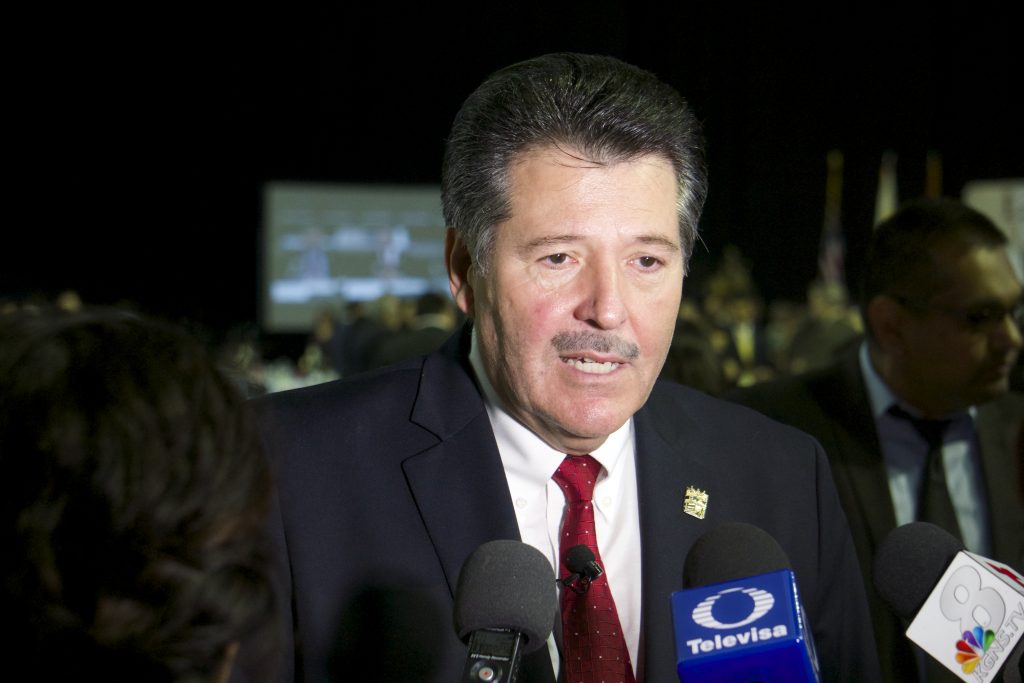 "My commitment to maintaining an open and transparent form of government continues ever so fervently. I firmly believe that with this new council working together as colleagues, keeping lines of communication open, with each other, with management, and the public, and by engaging in full disclosure and accountability, more consensus will be reached, more measurable progress will be made, but more importantly, more public trust and confidence will be gained," he said.
Within the audience, the newly elected City Councilman, Alberto Torres (District 4), was also in attendance.
"It was an honor to attend the 2017 State of the City Address by Mayor Pete Saenz. This year's Address was unique and special, because it was the first time the Mayor was required by City Charter to host a "public, free of charge" event. The Mayor's vision for our city is beneficial for the continued growth of our commerce, economy, and city and a whole. I acknowledge the hard work and diligence from our City Manager Mr. Jesus Olivarez and Assistant City Manager's. As a new member of the Council, I look forward to working with the Mayor, Council members, and City Management for the betterment of our communities," Torres said.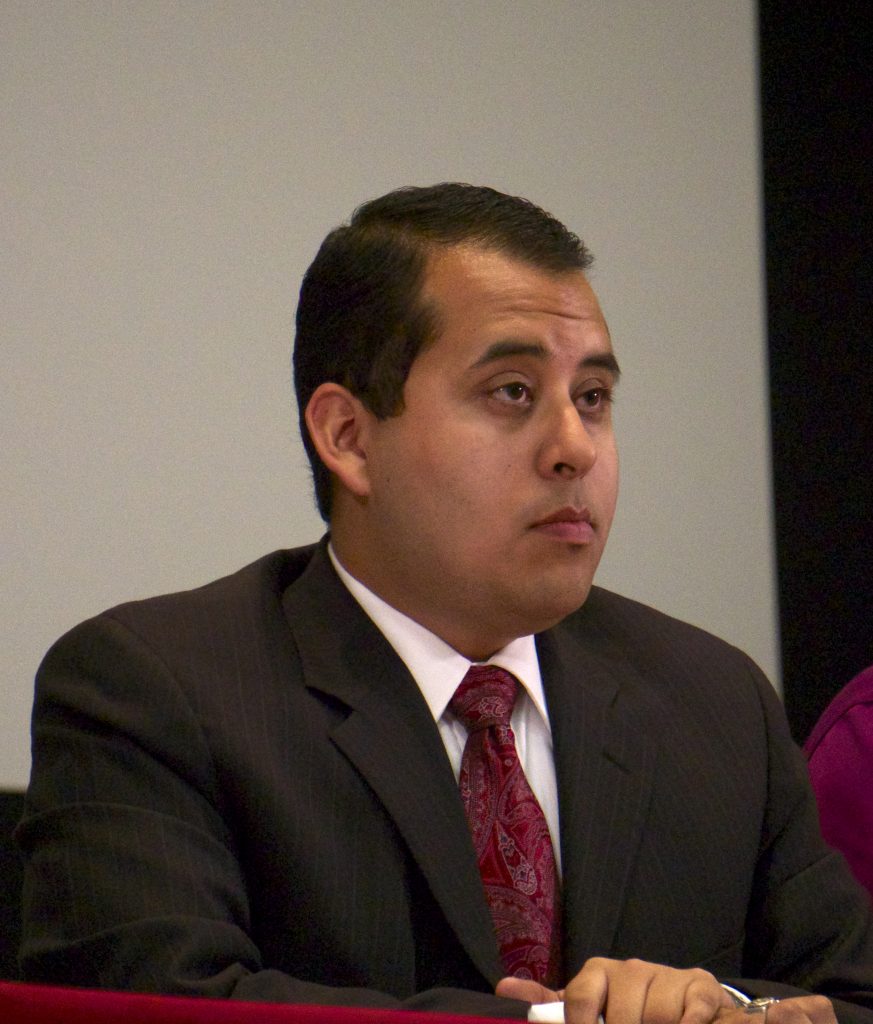 Saenz was eager when discussing the new downtown outlet mall. He noted that the mall could bring about plenty of jobs, especially for young adults. TAMIU hosted a job fair for recruitment for the outlet mall on January 17. The entire Student Center ballroom was crowded with young individuals looking for work. Saenz noted that the new outlet mall will not only simply bring jobs to the city, but also it will reinvigorate business and visitation to the downtown area. On the business note, the new outlet could attract foreign customers from Mexico to do business with this name-brand stores, here in Laredo, as opposed to the outlet malls in San Antonio and San Marcos.
Saenz also expressed dilemmas in the Laredo's poverty issues. He noted that Laredo currently has 30% percent of its people living in poverty, and must do more to reduce and eliminate that number.
Saenz continued by discussing his support for Plan Viva Laredo. He supports the organizations master plan to redevelop the city's infrastructure. Saenz also praised much of the economic development that has happened over the past years. The city has seen large business chains open a new establishment here in the Laredo. Last year some the opening of restaurants like Cheddars and Hooters as well as new additions to current local restaurants. The entire north side by Loop 20 looks completely developed as opposed to how it did ten years ago.
On many people's mind was the mayor's response to the proposed policies of President Donald Trump. Last year, The Bridge interviewed Saenz and noted his criticism of the then presidential candidate. Trump visited Laredo as part of his Border Tour in 2015 where he met Saenz.
In his address, Saenz expressed his best wishes towards Trump, and sustained his optimistic tone to work with Trump to continue Laredo's progress.
"It is our sincere hope and expectation that our federal leaders will be receptive to the needs of Laredo in regard to the full spectrum of issues that face our city, and most particularly, in regard to border security, trade, and transportation," he said.
Formalities aside, Saenz expressed firmly assuring that he would stand against Trump's proposed Border Wall. Saenz also spoke very highly of NAFTA and the blessings it has brought to the city. Laredo's citizens voted strongly against Trump in the general election.
"We must safeguard NAFTA and oppose the construction of a border wall. My visit for President Trump's inauguration on January 20th and the city's annual legislative trip in March to Washington will present opportunities to pursue those important border discussions." Saenz said with vigor in his tone.
Saenz's rhetoric does come at a time when much of  the country is unsure as to what will happen. As many critics have their doubts towards Trump's proposals, it is reassuring to know that Laredo's mayor stands ready to protect his citizens and their progress. Even though most of America is uncertain to this Trump presidency, it is certain that his proposals, if passed, will have a drastic effect on the City of Laredo and its people.