The New and Outgoing Presidents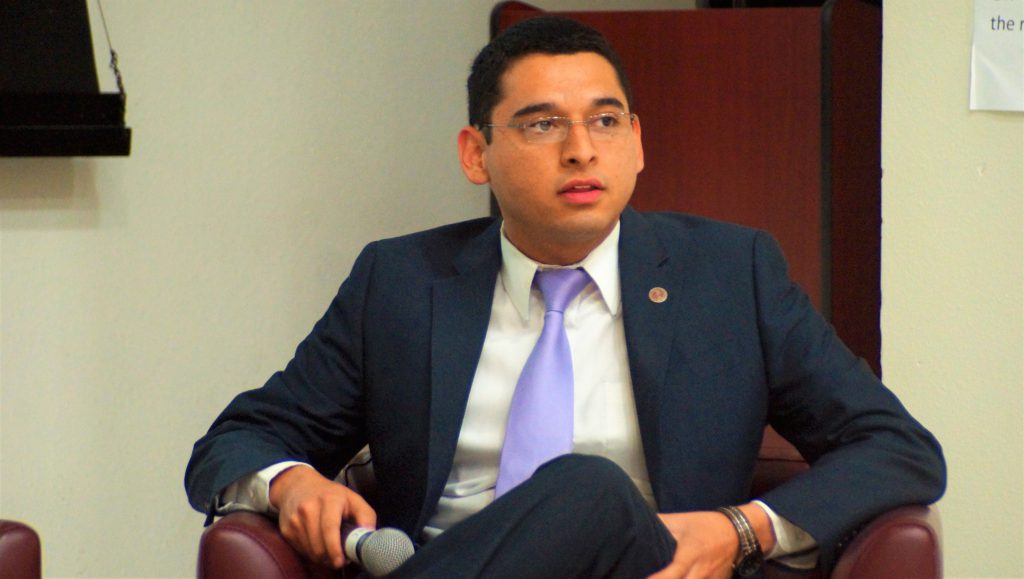 Newly elected Student Body President Jesus Padilla and outgoing president Joshua Llamas came to The Bridge News to share their thoughts. The two were asked diverse questions corresponding with their new positions. Padilla was asked about his plans and concerns for his new presidency and newly-formed government. Llamas spoke about his time as president.
Coming in at the relatively young age of 18, Padilla aims to mark his presidency by continuing on the incomplete efforts of Llamas. At the same time, he is strategizing how he can work to resolve student issues. Food and nutrition for TAMIU students and advancing the campus' internet capabilities are among these issues.
Concerning food, Padilla explained an ongoing effort to create a student food pantry. The service is designed to feed students who do not always have the resources to pay at the eateries on campus. Padilla recognized that the Dusty Diner provides these services, but at a decently tough cost, especially for daily customers. On top of that, campus residents pay for a hefty meal-plan
without many other options to satisfy their nutritional needs. The food pantry would be a system where students could apply and receive some non-perishable food allocations without having to pay daily. Alongside that, there were plans that Padilla considered pursuing, such as bringing the old Dusty Express over to the residential areas for students to shop.
Understanding the concerns of residential students, Padilla also wants to continue the efforts for a shuttle bus. This was something Llamas was not able to complete, but is still determined to do so as a concerned student. The shuttle bus was to be something of a duty driver that would provide residential students transportation to local areas of need, like H-E-B or Wal-Mart. Both of these stores can be easily accessed from the university. This comes very beneficial to students who do not have their own transportation.
Even though he could not complete everything as planned, Llamas understood that these efforts take large amounts of time that go beyond the regular semester and school year. However, he is proud of his time in the Student Government Association (SGA) spending three years total, with one year as president.
After the recent elections, there is virtually a new government in the executive, legislative, and judicial branches. Padilla feels optimistic that the new government is comprised of motivated and spirited individuals who wish to better the needs of TAMIU students. Motivation among SGA members alongside work ethic was a problem that Llamas had to deal with. Several members began resigning or made choices leading to their impeachments. Llamas and Padilla strongly agreed that SGA is a very demanding organization and requires strong determination from very motivated students.
Padilla plans to begin his presidency by tackling some issues introduced late in Llamas presidency. Some of these include reforming the judicial branch, and possibly creating some new senate seats to represent different and exclusive students.
Though eager for retirement, Llamas does have some plans for remaining time in TAMIU. Now a senior set to graduate in December, Llamas still plans to be active in different school organizations. He wants to stay involved, but just not at the caliber of the presidency. When President Bill Clinton spoke on campus, many opportunities opened up for him in different fields, particularly in education. Llamas is a political science major, but he does not have much intention to get into government. He plans to pursue a career in education.
As we reflect on the old government which has now ended with Llamas' presidency, TAMIU students should most definitely embrace the new government. Both of them stated the same phrase, "anyone in TAMIU could make a difference." That is very much true, and the core values set from these student leaders on pure motivation and raw commitment are things that all TAMIU student should consider embracing.
Representatives of the New Government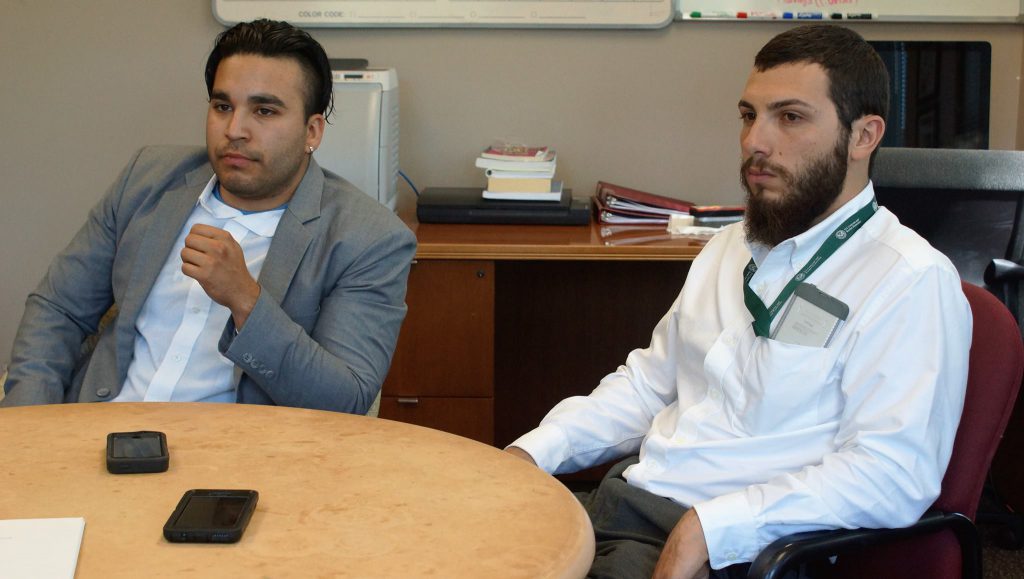 Aside from the new president, there were plenty of brand new senators and senators-at-large who were elected into office for the Student Government Association. The Bridge News had the pleasure in being able to sit down and hear from one of each. The two wished to express themselves as students, and they voiced some of their hopes for TAMIU as SGA officers.
Oliver Vera is a sophomore who has been elected as one of seven senators of the College of Arts & Sciences (COAS). He is a double major is political science and criminal justice. Vera is a US Army veteran who served a tour in Afghanistan before coming to college. The 24 year old student began attending TAMIU in the fall of 2015.
Vera noticed quickly that there was some issues with representation among COAS students. He took this in much consideration when he decided to run for office. During this time, many members of the SGA were beginning to resign from their positions for different reasons. Vera sought to seize this opportunity. He ran for office in April where he was successful.
Vera's first and main priority is the students of the COAS. Being the largest school on campus, he knows there is a lot of concerns, from different voices, that he must represent. A conservative by trade, Vera would not want to support or sponsor programs that would increase costs for TAMIU students. However, he does understand necessities do exist. With that, he is supportive of the shuttle bus and food pantry programs that were proposed during Joshua Llamas' presidency.
On a lighter note, Vera does want to find cost efficient ways to bring entertainment to TAMIU students. He understands that the university, like its hometown, can get a little boring from time to time. He wants to help create healthy activities that promote campus entertainment and community values.
Of the four senator-at-large seats, three of them have been filled by new members. One of those, is Ricardo Cagigal. Cagigal is a twenty-two year old biology major  aiming to graduate in spring 2017, as well as the reigning Mr. TAMIU, and now he is a new elected senator-at-large. As a senator-at-large, Cagigal does represent the all students. He is not subjugated to one college.
Like Vera, Cagigal has had reservations about the student body being underrepresented. Being in TAMIU since his freshman year, he felt like much of time in the university was building up to this position. He understood that many of past SGA member were honorable students, but he also notices that some took the position for granted, and utilized it only as a résumé builder. Taking this to heart, Cagigal took the opportunity to be a major representative of the student body.
Before being elected, Cagigal stated that be helped established the new charging stations seen on campus. He plans to expand on that program by developing more around common areas. He hopes to have one in every building. Also, he wants to upgrade them as well. He pictured a model similar to the charging stations seen in airports.
Concerning issues with cohesion and discipline within the SGA, Cagigal was very concerned about keeping his fellow members motivated during their times in office. He does not want to see many of them drop from the SGA or find themselves impeached in the future. Cagigal said that the SGA comprised of motivated members who do their best for the students of TAMIU. He is feels comfortable in believing that the members of the new government are people of such character.
Both Vera and Cagigal were individuals who endorsed open door policies. They want to hear from the students. Both of them were in concurrency for finding ways to help represent some exclusive groups on campus. Some ideas pooled were to create committees or possibly a permanent senate seats for campus residents and student veterans. As officers, they were willing to consider these options for legislation.
These were two of the new officers that now sit as SGA officers. There are other that were elected with similar concerns as these two gentlemen. Also, there are plenty of vacant judicial appointments that have be made. Overall, there is a clean slate for progress in the SGA.