This article originally appeared in the February 2016 print edition.
by I.M. Kero
Texas A&M International University hosted a lecture from renowned city designer, Jeff Speck. Speck is the author of Walkable City: How Downtown Can Save America, One Step at a Time. He gave a detailed analysis of how downtown Laredo has the potential to become livelier.
The event took place in TAMIU's Fine and Performing Arts building. Several key figures were also in attendance, including City Manager Jesus Olivares, Council Member George Altgelt, and President Keck. Among those also in attendance were several students, professors, and other big Laredo names.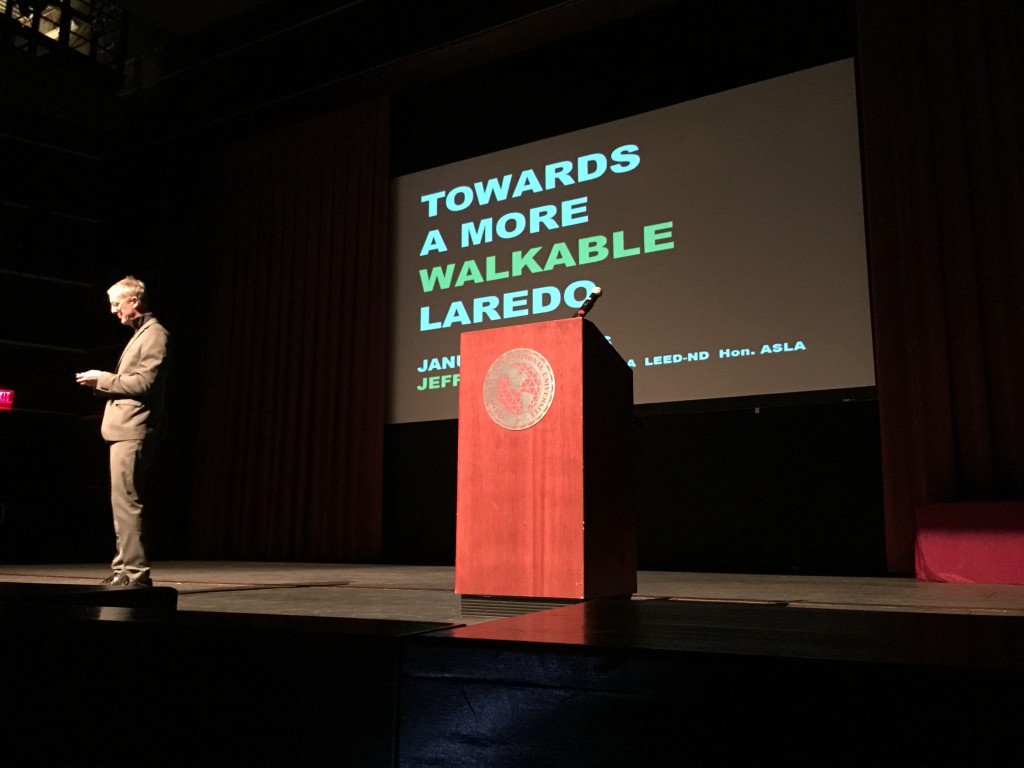 Speck's presentation was one that he gives in other cities, and was not just a vocal lecture. He presented slides with charts and photos. Most of them were informative while some were humorous. Speck also used several aerial shots of downtown Laredo comparing it to other big cities.
In his lecture, Speck stated that downtown had "good bones." By this, he meant a good fundamental layout that could increase the walkability of downtown Laredo. He pointed out the downtown area is structured as a dense area that appears to have been designed with the intention of large pedestrian traffic. This is what Speck found most joy in; with downtown Laredo already built with the potential, only efforts and funding from the city are necessary.
Speck's biggest recommendations were to decrease the flow of automobile traffic. He pointed out that having multiple lane roads only provides an incentive towards driving. Likewise, he noted that several downtown roads could be reduced from three lane roads to two, and to reduce the amount of one-way roads. He suggested that several two lane one-way roads should be reconfigured to two lane, two way roads. This could increase the timely traffic on certain sides downtown allow for better access to the businesses downtown. Reducing the lanes of the road provides space for increased parallel parking and bicycle lanes, Speck stated. A lot of these lanes downtown were once two-way lanes but were converted to one lane. He heavily compared Laredo to Portland, Oregon, which he considered the ideal image of walkable city.
The City of Laredo currently has a surplus of $200 million. Speck suggested that the money could be best used for renovating the downtown area using his recommendations. He gave an example using an auto bridge in Columbus, Ohio. The northern part of Columbus was a less fortunate part of town that only had access by one very unattractive bridge.
After the city invested in redesigning bridge with a larger deck and business platforms, the increased pedestrian traffic increased attention towards the north side, making it the newest and most popular district.
Speck gave very helpful recommendations, but there were some lingering questions. Speck was able to answer and provide hope for downtown; however, the City of Laredo were the original planners that caused these discrepancies and will have the final say in downtown Laredo's future. While the city did give strong interest to have this subject brought up, there is no guarantee of any change. The next question is how an increase of business in an area located minutes away from Mexico will be possible, as border towns are constantly used as political punching bags. The poor image that Laredo often created by the media could hinder new business in the downtown area. Also, with residency and businesses growing in the north and south sides of the city, it will be difficult for downtown to continue to be an attraction to the population.
All in all, Speck gave great recommendations, but many of these recommendations can appear obvious to many residents. The City of Laredo does have the money to fund Speck's recommendations. Whether the local government or the city itself will invest in these changes still up for question.
Mr. Speck managed answer some of our questions.
1. What are some of your honest thoughts of the City of Laredo?
"What is remarkable about Laredo—besides the fact that it allows someone to fully enjoy Mexican food, culture, and people without leaving the US—is how much great downtown fabric it has. . . block after block of lovely streets and squares, many more than the local population numbers would normally a phenomenon one only finds along the border, where Mexican shopping has for many years contributed to retail revenues.  It makes downtown Laredo a great place to walk around."
2. With the $200 Million, do you think the City of Laredo could accomplish your recommendations without using all of the money?
"If you are referring to Oklahoma City's investment, I hopefully made the point that their opportunity was an anomaly.  I am much more interested in spending as little money as possible—on re-striping rather than rebuilding—to make downtown streets more accommodating to all users."
3. Do you feel that the local government would truly move forward with your recommendations?
"Not from my lecture—it was just a lecture—but I look forward to an opportunity to make recommendations in a more formal way."
4. How long do you think this project could be completed?
"I do not believe that I outlined a specific project, but I have three main recommendations.  One is to re-stripe certain downtown streets in a way that makes them safer and more pleasant to walk and maybe bike on.  The other is to make a significant investment in the private sector building a large number of residential units downtown.  The first could be accomplished in a year or two; the second in half a decade, with more to come.  The third is to stop building single-use suburban pods around the edges of the city, when that development could instead take place in mixed-use neighborhoods of the type I described."
5. Would see this has very necessary for downtown Laredo or would it be wiser to continue expanded the north and south sides of the city?
"I think that the first focus should be the downtown.  Secondarily, and potentially simultaneously, the land north of downtown, near TAMIU, is ripe for the sort of mixed-use walkable suburban development that would provide a much needed 24/7 live/work/learn/play community for that location."
6. What are some of the things you've enjoyed during your visit?
"See question 1.  Also, this sounds hokey, but I have rarely been treated so warmly by everyone I've met on a lecture trip.  Of all the talks I have given, I think this one had the largest percentage of people who came up and chatted with me after."
7. Do you believe that Laredo could one day be a major Texas city?
"I'm not sure if that should be the goal, just like I question those cities that strive to be "world class."  Be careful of what you ask for.  Enough for now that Laredo become a place that is better at retaining its young talent.  That is something that will be accomplished when it becomes a place where more young people want to be, and we have learned that this means becoming more walkable, in all that that entails."
Jeff Speck's presentation can be found on TED.com