OPINION: Following an amazing editor
EDITOR'S VIEW
By David Gomez Jr.
Editor-in-chief
Published Monday, May 4, 2020
I, David Gomez Jr., am the latest editor-in-chief of The Bridge student newspaper at TAMIU. Many of you who have already seen my articles and editorials knew I had some great big shoes to fill.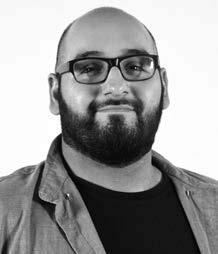 Matt, the editor-in-chief before me, was a shining example of what it took to run a campus student newspaper. He had the will, the fortitude, the social skills and the natural talent to find a story. Among our own reporters, photographers and editors, he is talked about fondly and they reminisce of his managing and straightforward advice. He was absolutely one of a kind.
"I remember when Matt would…," someone in The Bridge staff would say as I was about to suggest a story or angle. Like I said before, I had big shoes to fill, and over time it was getting annoying. Not because of the staff, but because I, ME, would start to ask myself, "What would Matt do?"
So, on my own by the March issue, I felt overwhelmed and low. I would feel small in comparison to my old editor. I would add even more added pressure to my already heavy work and course load of daily activities. My mind would wander off into the Mac monitor in our shared Bridge office in Pellegrino Hall. YouTube and how-to videos would help me further learn the building blocks of how to lead a student-ran paper.
Of course, before I took the editor-in-chief position, Matt and Assistant Professional Thomas R. Brown, my faculty adviser for the paper, would teach me the basics and help me edit along so I could get the hang of it all. Even with their advice and hands-on learning techniques, I still felt as if I was going skydiving without a parachute.
Though, the funny thing about skydiving is, you cannot jump out of the plane before passing the four-hour training session, on the ground—before even boarding the plane. So there I was in February, sitting inside The Bridge office, skydiving headfirst into articles without sources or quotes. I remembered teachings on how to get out of such a situation. The first thing you must remember is: you do have a parachute and that you do know what to do yet the mind goes blank the moment after jumping.
So again, sitting in front of that Mac monitor inside that office, I would slowly start to recollect all the things previously processed, add it to the articles and ask myself some questions: What's a good headline? What information do the readers want to know? How can I make the newspaper be read even more?
Up until mid-March, things were looking up, but then, the coronavirus took over our articles for the rest of the semester. Including our Bridge office that contained our software to edit our stories and design the whole paper.
So far, my single semester as editor-in-chief proved to be a challenging experience, but also a rewarding one. I could not have asked for better mentors, or staff, to keep me from destroying The Bridge. I can hardly wait for what I will write about next semester.