I have never known what it's like to have a normal family.

Since the day I was born down to the present day, I have belonged to two different families, both of which were composed of children from previous marriages. The story behind my family starts off simply: when my parents got married, my mother had two sons from previous relationships. My dad became their stepfather, and of course, the biological father to my older sister and I. Both of my brothers were teenagers when I was born, so there's a pretty big age gap there. I was taking my first steps while my brothers were marching at Shirley Field with La Banda del Animo. Yet even though our structure might have been a little different, we were still just like any other family on our block.

Then my parents got divorced, and when all was said and done, I went to live with my dad and sister. My brothers moved in with my grandmother and aunt, while my mom moved across the state. So for the next nine years, my sister, dad, and I lived together under one roof. When I was eleven, he got remarried, and now has two children with my stepmom. That brings my total number of siblings to five. Currently, I am the de facto big sister in my household, as my older sister has long since moved out and had a child of her own.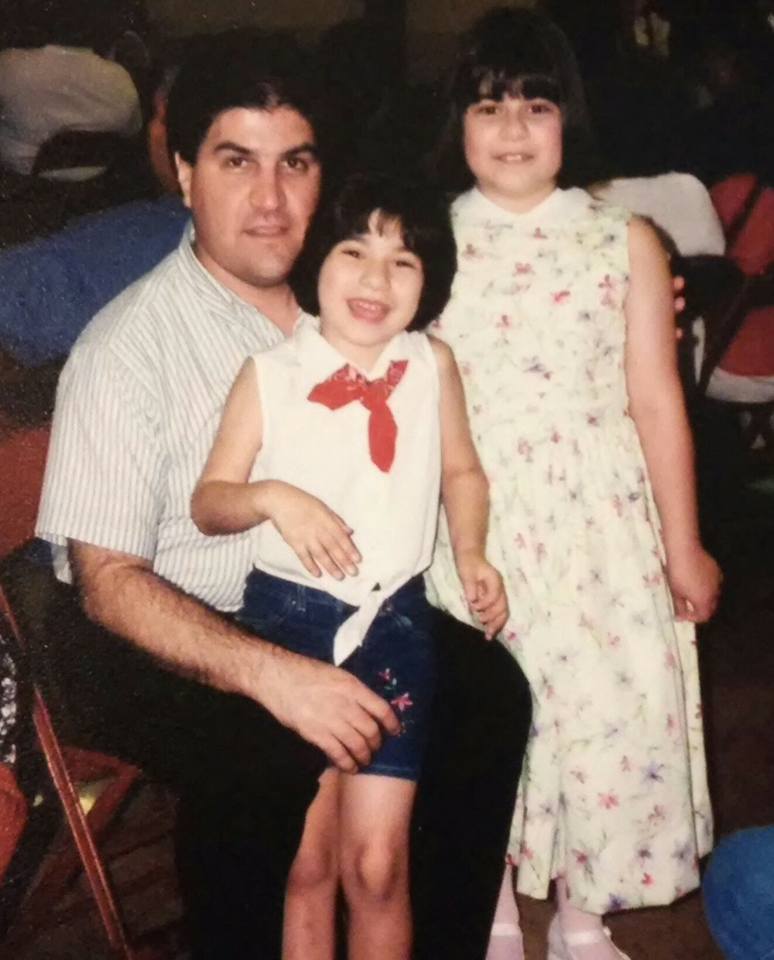 For the most part, it's quite amusing to see people's reactions when I tell them I have five siblings, all ranging in age from six to thirty-six years old. It's even more hilarious when they ask me where I fit in amongst them, because I don't have an answer to that question. I'm not sure whether to consider myself the youngest or the middle child. I am my mother's youngest child, and my dad's second oldest. I can talk about my experiences in college with my older brother and sister, and help my little sister with her first-grade homework.
Nevertheless, it's an odd dynamic that has mostly felt normal to me, up until people question it. Though most people who take a little extra time to ask about my family structure are genuinely curious, there are some questions that are harder to answer than others.
When people ask me if I like my stepmom, I feel as if they're waiting for me to speak ill of her. So I respond by telling them that while she isn't perfect, neither am I, and for that reason I appreciate all she has done for me in the past ten years. When people ask me why I live with my father, or more specifically about my relationship with my mother, the answers are as clear as day in my mind, but it's harder to say them. Though my parents divorced nearly twenty years ago, the events that took place during that time still affect me today. I often beat around the bush, and on occasion, I've lied when the conversation got too difficult for me to continue. The more I'm pushed for answers, the less I want to give them. I realized this in the second grade, when a nosy classmate simply told me that I was not loved enough to have a "normal family".

Despite the love I have for my family, biological or otherwise, the desire for a normal family has always been there. Splitting up my time during the holidays between three families, not knowing who to invite to milestone celebrations, or having to explain why my siblings and I don't look alike can be tiresome. Sometimes, it can even be depressing. For the longest time, I considered my family a puzzle with too many missing pieces, or at least one in which none of the pieces fit like they're supposed to. I've felt like one of those mismatched pieces all too often. My definition of 'family' didn't fit the one defined by society. For all the hilarity shows like The Brady Bunch or Modern Family provide, they cannot show what it's like for a girl from a blended family to grow up in a predominately Mexican-American, Catholic, and conservative city.

However, despite all the identity crises that have come as a result of my upbringing, the sense of solidarity that comes with meeting people whose families don't fit the mold is comforting. A majority of my friends come from single parent homes; some of them have even grown up with their fathers like I did. Also, the solace doesn't just lie within my group of friends, but a lot closer to home. My late grandmother was the product of her mother's second marriage, and later became a stepmom to my grandfather's sons. My mother created her own blended family through marrying my father. Then there's me, the girl perpetually caught in between families, attempting to explain to two school-age children why I call their mother by her first name instead of Mom. So, that's three generations of blended families right there. As my dad pointed out yesterday, "Long before The Brady Bunch, there was your family."
Funny as it was, that silly remark put things into perspective for me.
I have accepted that there is nothing "normal" about my family, never was, and probably never will be. Mine is not any less valid than yours, and vice versa. At the end of the day, 'family' is more than a word in a dictionary, but a collection of people and experiences unique to everyone on this planet.