Rebekah Rodriguez and I.M. Kero also contributed to this report. 
Spring 2016 was a promising semester for Texas A&M International University as graduates came rolling out in significant numbers. In the weeks following graduation,  new graduates have continued to share their stories through social media. Every story is unique, and four recent graduates shared theirs with The Bridge News.
One of TAMIU's 2016 graduates is Martiniano Gonzalez Jr. who received his Bachelors of Science in Nursing (BSN).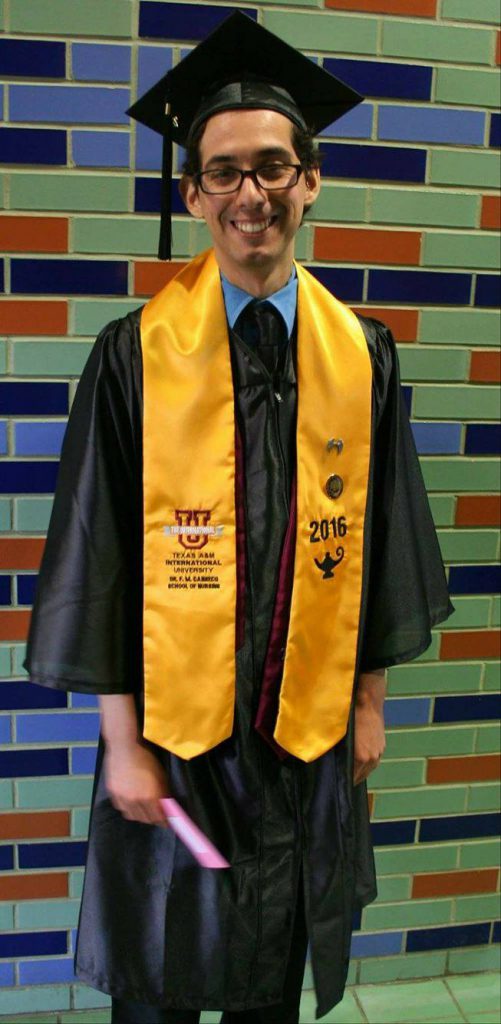 Gonzalez states how the graduation ceremony was an ecstatic experience and how it, "doesn't really hit you until after you sat down and looked to your friends to see them holding their cylinders."
Of course, graduation ceremonies are extremely rewarding experiences but what are the plans for TAMIU's May 2016 graduates and what advice can a graduate students give to an aspiring university freshman?
Gonzalez shares his story and explains how the nursing program was, "It's a daunting task to succeed in the nursing program…[the] advice I would give to others would be to take it slow. Reminding yourself to do each task one day at a time, at least for me, removes a lot of stress on that sheer amount of work that needs to be done in a limited time. Once that it handled you'll naturally fall into routine."
Gonzalez's goals are future is set and he is now looking for a job at Laredo Medical Center (LMC) and has found promising results. "LMC 2C [night shift], I start in July and I'm hoping to gain more experience to later get my Master's degree." Martiniano mentioned his background before getting accepted to TAMIU, "I was born and raised here in Laredo…and attended John B. Alexander High School, I worked for a few months at TJMaxx before. As a transfer from UTSA, I was then accepted into the nursing program at TAMIU".
He puts emphasis on peers and how companionship is often the most beneficial way to have success. "I wouldn't have made it in the program if it weren't for my friends" states Gonzalez. TAMIU's nursing program is something Gonzalez greatly promotes, and though it is difficult and challenging, "going to clinicals and seeing patients you had to connect with them as a human being rather than just a subject in a book" is what brought the most satisfaction to his experience in the Nursing Program.
"It is so rewarding to hear a 'Thank you' after a patient recovers and goes home…much more gratifying than an A you get on an assignment."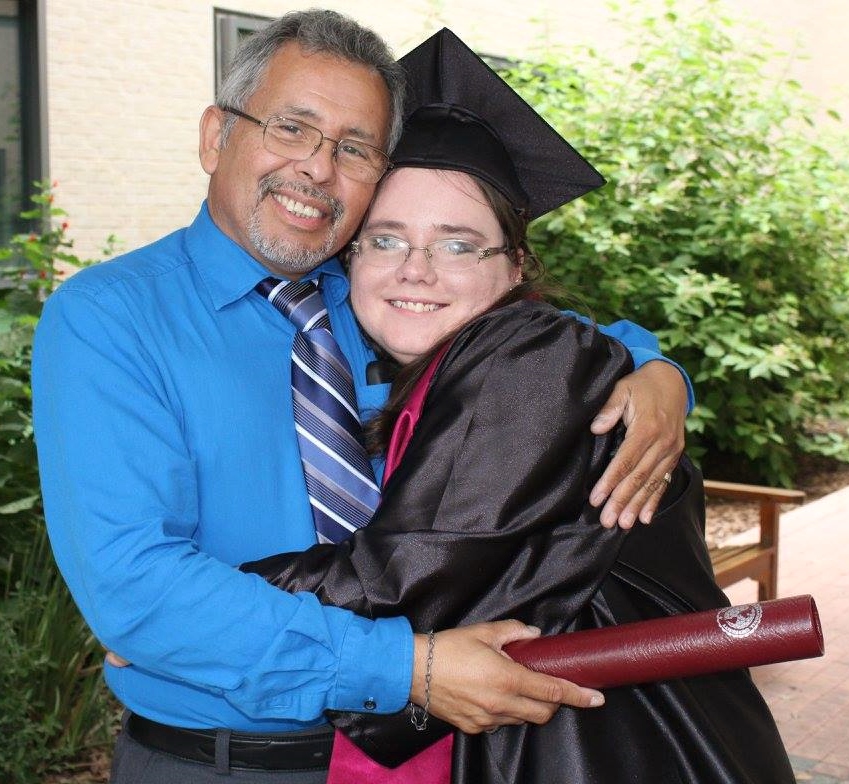 His story is just one success story of many and also a great reflection of how success is granted to anyone who is dedicated and ambitious. Other students have faced significant challenges throughout their academic career. Melinda Lee Downie, or "Mindy" as she is known by friends and family, graduated cum laude with a bachelor's degree in Communication. Born in Pennsylvania, Downie moved to Laredo at the age of seven after being adopted, and was raised by a single father. Along with growing up in a single-parent household, Downie is also one of the primary caregivers for her younger sister, who has autism.
"In many ways, it was tough — scheduling my classes became an issue, and I had to turn down some opportunities that would have been nice, but I have no regrets," said Downie. "My sister is the reason I got this far. I want to give her a good life."
Downie is also a first-generation college student. She reflected on how this fact has motivated her throughout her academic career.
"As a freshman, I did not know what to expect, and I had to figure out everything — and I really mean EVERYTHING — on my own. This did teach me to ask questions when I needed help, but it did get frustrating at some points. I also found that as a first-generation college student, there was a lot of pressure to succeed on my shoulders. I wanted to do well not only for me, but for them, and in some ways it helped me keep going when things got tough."
Despite having to juggle studying, working, and taking care of her sister, she says that her college experience still wasn't too different from that of the average college student. Like many of her classmates, she was a frequent customer at the Starbucks in Killam Library, where she says some of her best memories were created.
"We would get together at any free moment we had, doing homework, whining about our classes, or just talking about nothing. These little moments meant a lot to me," said Downie, "My friends became like a little family. I always loved how college brings people together – we all experience a lot of the same things, like stress and caffeine dependency," she joked. 
Downie plans to return to TAMIU to pursue a graduate degree in Organizational Communication in the near future. Looking back on her time as undergraduate, she gave the following advice to incoming freshmen:
"TAMIU is a great school, and I had a great time learning everything I could about my field. College is what you make of it. It will be hard, but I can honestly say that walking across that stage was one of the best moments of my life."
Iris Vasquez Guerrero is a fellow communication major who also received her bachelor's degree last month.  She also served as a Senior Reporter for The Bridge News during her final semester. In "Coming Back From Two F's" (which appeared in the February 2016 edition) Guerrero wrote about her decision to resume her studies. Though she previously began her degree at Texas A&M University – Kingsville, she withdrew after four years. An attempt to complete her degree at TAMIU in 2007 resulted in her dropping out after the first day, something Guerrero deeply regrets. Since Guerrero never officially withdrew from those courses, her grade point average upon returning to TAMIU was a 0.0.
However, despite her previous hurdles, she made the decision to finally complete her degree in 2014. After earning her associate's degree from Laredo Community College, Guerrero enrolled at TAMIU in the summer of 2015 to finish her bachelor's degree. She cited her former coworkers, some of whom are also students, as the inspiration for her to return to school.
"Seeing my coworkers juggle work and school gave me the motivation I needed to know I could finally do it myself," said Guerrero. "The piece of paper together with my work and life experience,  I felt, would make me a triple threat in the workplace."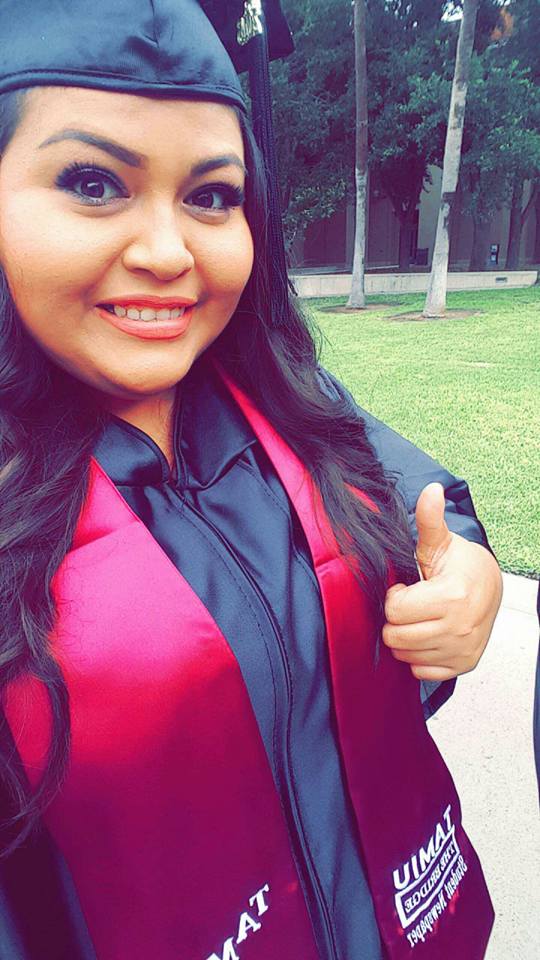 Aiming to graduate within a year, Guerrero applied twice for a course overload (more than 18 credit hours in a full semester). Her first overload request for Fall 2015 was denied.
"It felt terrible to have my abilities be judged by a nine year old number," said Guerrero. Still, she did not let this deter her from excelling in her classes.
"It was an experience that I was not expecting to have, but it lit a fire in me to prove I could handle it."
She made the Dean's List that semester and her second overload request was approved. She subsequently took 22 hours during her final semester. Even though her time at TAMIU was shorter than the average student's, she is still thankful to the faculty whom she met over the course of  year.
"Sitting in Ariadne Gonzalez's classes, I learned so much. Dr. Stuart Davis made my ideas feel important. Dr. Jose Lozano believed in me since the first day I met him when I decided to be a communication major. My time at The Bridge was also very special because it made me look at TAMIU differently, and made me appreciate what the university has to offer," said Guerrero.
Guerrero will soon be returning to the workforce, where she hopes to be "an advocate for the disadvantaged and underprivileged" in her future career. Now armed with a bachelor's degree, she wants other students to persevere and understand the immense amount of opportunities available at the university.
"To those students who still have a ways to go, don't give up. It gets harder when you try to go back.  Pay attention, [because] partying is only fun for a few years, and take advantage of what TAMIU has to offer — jobs, concerts, internships, speeches — because they enrich your education."
Irene Garcia, a psychology graduate, student mentor,  and soon to be mother, shared some of her thoughts on her graduation and four year experience. Garcia came into TAMIU with a full scholarship, and took advantage of it the fullest. She has mentored countless of freshman in the beginning of their college career, and she responsible for the success of several upcoming graduates including some members of The Bridge News.
"Last month, I was able to experience a dream come true…graduating from college. As a first generation college student I am now a proud graduate of the Texas A&M International University with bachelors in psychology. Though, I learned after four years that psychology was truly not my passion but rather a tool I needed to built upon to grow as an individual. I am excited to apply for graduate school this coming spring. I want to continue my education at TAMIU under the masters program Public Administration. Yet, there are so many avenues I can embark on. I would like to start my own non-profit organization in Laredo. Where giving back to community is a priority through enhancing leadership skills in the youth. Though, the journey does not stop there I am eager to see where life takes me in these next few years. I am open to new opportunities."
With summer classes in full swing, classrooms are still being filled daily by students just like Gonzalez, Downie, Garcia, and Guerrero.  Whether they are an incoming senior taking their last courses, or a freshman on a tour during Dusty Camp, the stories of these graduates will hopefully provide a sense of hope and affirmation for all students.