New professor's microbiology research focuses on microorganism, fungal disease
By Brenda Alvarez
Bridge contributing writer
Published Wednesday, March 2, 2022
(Originally published in the February print edition, 2022)
Hailing from a small town near the Indian Ocean, one new faculty member now strives to find a solution for pathogens.
Texas A&M International University Assistant Professor of microbiology Ruvini Pathirana, of Sri Lanka, discovered a curiosity about the quality of mass-produced food. This drove her to work toward a master's in food science and technology from her hometown. After applying around the world to pursue her doctorate, she ended up earning it from a university in Nebraska.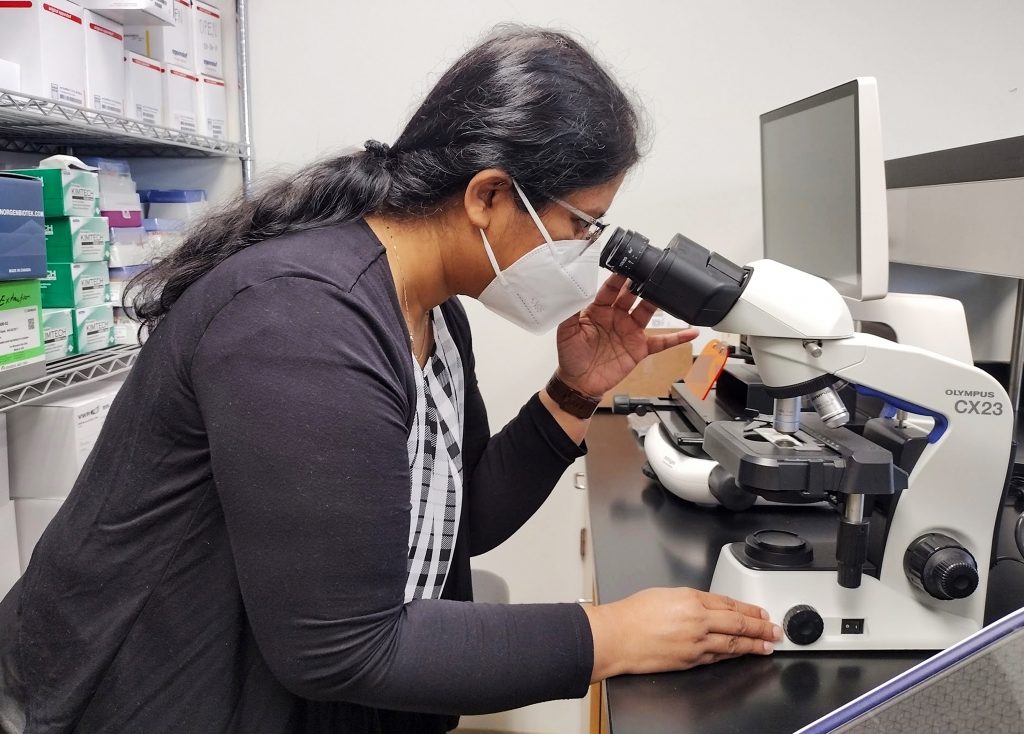 She graduated with a molecular biology degree, studying pathogenic mechanisms. She dedicated herself to studying how a yeast, candida albicans, can sometimes cause disease in humans.
"[It] especially [affects] people with weak immune systems—for example, cancer patients and babies," Pathirana said.
After graduating from Nebraska in 2016, she continued with postdoctoral studies in New York, which included advanced training in research.
"You have more control over your research," she said. "You make your own hypothesis, do your own experiments, you research and you publish.
"I had a good undergraduate [assistant] while working on my doctorate, who I mentored." "I got impressed by the college through her."
As someone who calls herself "a small city person," Pathirana said the smaller size was one of the reasons that brought her to Laredo this past August. She transferred from San Antonio to continue her research.
Her parents really wanted her to attend medical school but her passion led her somewhere else. As a high school science teacher, her mother helped establish Pathirana's love for science.
"My mother knew that my passion was different," she said. "She made us appreciate nature, so that built curiosity in me and I fell in love with the microbiology subject when I was in high school."
Aside from her ongoing research efforts, Pathirana enjoys listening to classical music, cooking and visiting museums. She hopes to stay at TAMIU longer than five years.
"I really want to improve my research program," she said. "I have my own lab and I'm so excited. I ordered a fancy microscope and it's coming soon. I'm excitedly waiting to hire research students for my new lab."
According to the Medical News Today website, candida albicans—which is a harmless microorganism that already lives inside people's mouths and throats—sometimes causes people to become ill.
"[I would like to] educate the general public on how to manage infectious diseases," Pathirana said. "One time I had a dream of working for WHO—the World Health Organization."
While candida albicans usually does not cause issues, "it's possible for overgrowths and infections to happen," according to the Medical News Today website.
The professor's research looks at how this microorganism affects people.
"I am working with a yeast called candida albicans," Pathirana said. "Sometimes if we take antibiotics for a long term, it suppresses our immune system. This yeast can also cause skin infections in babies and also urine infections in women."
As reported in Medical News Today, treatment is typically recommended for symptomatic individuals. The antifungal drug fluconazole can be used in many cases.
"There are very limited drugs available to treat fungal diseases like this," Pathirana said. "So, scientists are constantly working to find better options to develop new drugs. Candida has more than 12,000 genes but not all of them are well studied yet."
She also said her research observes two specific genes essential to make nutritional molecules.
"My main aim in the future is to find how these act at the molecular level during yeast infection," she said, "and then use this information to identify ways to develop new drugs to treat patients suffering from candida infections."
One piece of advice she likes to share with everyone comes from her hometown alma mater: "Live pure, speak true: right wrong." She also wishes for students, "to find their talent and passion and align them together for their future job."